The LPAC can provide some great alternatives for nights out. Drama, dance, music, and comedy, LPAC has them all. These are our top picks for this coming season.
Wednesday 20th October, 8pm
An Audience with Howard Marks
Howard Marks has worked with the British Secret Service and has been connected to the Mafia, the IRA, MI6, and the CIA. In 1988 he was caught by the American Drug Enforcement Agency and was sentenced to 25 years at one of America's toughest federal penitentiaries: Terre Haute in Indiana, but was released in 1995 after serving just seven years. After releasing his autobiography Mr Nice in 1996, Marks has since toured talking about cannabis trafficking and sharing his liberal opinions. With the imminent release of Bernard Rose's film, entitled Mr Nice, Marks is going face to face with the public to share his experiences.
For ages 18+. Tickets are £12.50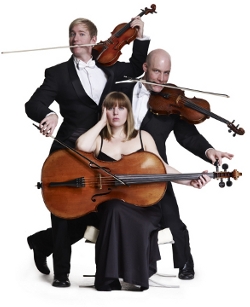 Tuesday 2nd November, 8pm
Pluck: Musical Arson!!
Take three talented idiots and what do you get? The world's most musically challenged string trio — Pluck. The trio compete, ridicule, argue, and seduce their way through a wide musical library, from Bach to the Beatles. The result is an evening of unpredictable musical buffoonery for all the family.
Tickets are £10, £8 for concessions
Thursday 18th November, 8pm
Austen's Women
Jane Austen is the novelist who brought some of the best loved female characters to life. In this fantastic show, Rebecca Vaughan brings thirteen of these ladies to stage. From comedy to pathos, Vaughan takes us on a journey with Elizabeth Bennett, Emma Woodhouse, and Anne Elliott among others, as they fall in and out of love, make friends and step out of their comfort zone.
Tickets are £10, £8 for concessions
Sunday 21st November, 8pm
Kevin Bridges
This young Glaswegian is quickly becoming one of the best known comedians on the TV. With a sell out show at the 2009 Edinburgh Festival Fringe, the last 12 months have flown by in a whirlwind of success. His observational based comedy is right on the mark and his unique social commentary, thought through observations, and sharp one liners make him stand out from the rest of the Scottish crowd.
For ages 16+. Tickets are £13.50
Tuesday 23rd November, 8pm
Greg Davies – Firing Cheeseballs at a Dog
Davies is best known for his role as the extremely tall head of sixth form, Mr Gilbert, from The Inbetweeners. Having also made appearances on Never Mind the Buzzcocks and Mock the Week, this is his first solo stand up show after the success of We Are Klang and promises to make you laugh.
For ages 16+. Tickets are £12.50
If none of these tickle your fancy be sure to check the full line up as these are only a few highlights of a magnificent season.
All tickets are available from the Engine Shed Box office and LPAC Box Office, open Mon-Fri 10am-4pm. They are also available by calling 0844 888 4414.
Tweet