Lincoln and Plymouth battled hard to a 0-0 draw this afternoon, in a very evenly matched game at Sincil Bank.
The Imps secured their passage to the first round proper with a 3-0 win in the replay at home to Worcester City and were drawn against tough opposition in the face of League 2 side Plymouth Argyle.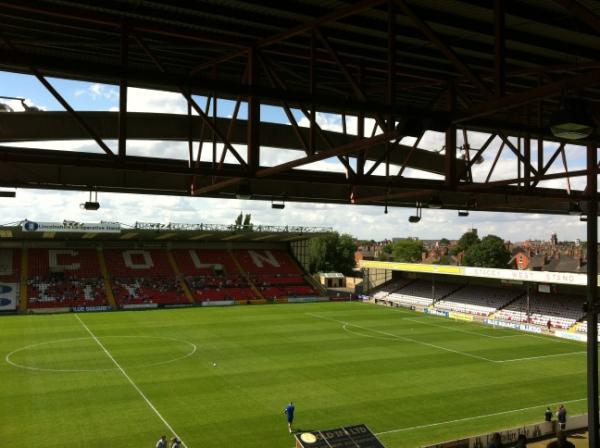 The Green Army have had a difficult start to the season and sit in 17th position but have had a slight resurgence in the two last games, winning both.
Lincoln however, have struggled recently, winning two out of their last 10.
Both teams started the game in an aggressive fashion but it wasn't until the 16th minute that someone carved out a chance to score.
Alessandra crossed the ball dangerously into the Lincoln box causing a goalmouth scramble but Miller was able to hook the ball away.
Lincoln had a penalty claim turned down in the 22nd minute, when a Plymouth defender bumped into on loan Bury striker Marlon Jackson. Despite the loud shouts from the Lincoln faithful, the ref was having none of it.
Reuben Reid came the closest in the first half an hour with a lovely volley on the turn, but luckily for the Imps it went straight into the arms of Paul Farman.
As the half went on, Lincoln were looking good, and were looking to try and catch Plymouth on the break. Wright came close as he broke away from the defenders, but his shot was straight at Jake Cole in goal.
Newton came even closer just seconds later, as he darted inside and fired a vicious left footed drive that just evaded the goal.
Lincoln had shown in the first half that there wasn't much difference between the two sides, and had ended the half on top playing aggressive counter-attacking football.
The Imps started the second half the stronger of the two sides, and came close when Jackson met Miller's cross but his header looped harmlessly into the arms of Cole.
Lincoln continued to look menacing on the break with Wright, who drove dangerously at the Plymouth defence before firing wide from 25 yards out, prompting groans from the Lincoln fans and one child to scream, "Rubbish!"
25 minutes gone in the second half and still nobody could break the dead lock. Obadeyi came close for Plymouth in the 69th minute, but his shot just crept wide.
It was very much becoming a game where a bit of quality from either side would see them through.
Either that or a mistake.
Late on, Plymouth opened Lincoln up like a knife through butter, only for Luke Young to trickle a shot towards goals, allowing Nat Brown to clear off the line.
Plymouth slowly came back into the game late on as Lincoln tired, but the Imps managed to hang on for a draw.
Both sides performed well and a draw is a good result for both sides. It's fair to say you couldn't really see the 20 league places between the sides.
Whether Lincoln will be happy with a 10 hour round trip to Plymouth is another matter, but it was certainly a morale boosting performance for Simpson's men, who need to carry this performance into the league game next week away at Southport.
Post-match reaction – by Max McLean
"I think the draw's a fair result" said Lincoln manager Gary Simpson.
"I think we've played OK again. It was tight; they came into it late on. A better ball in the box might have given us a better reward."
Simpson reserved praise for his full backs, especially Sean Newton, saying "Newts today was terrific."
On the money offered by the replay, Simpson said, "We know we haven't got the biggest budget in the world, it's a bit more money in the coffers," and on the subject of progressing to round two, he was calmly optimistic.
"The way the 2 teams are at the minute, I think one goal might win it."
Man of the Match Sean Newton focused on team unity, saying "We need to stick together."
"We need points on the board in the league, but it's a big FA cup game to look forward to at Plymouth.
"I don't think they hurt us to be honest."
Attendance: 2924
Player Ratings
Paul Farman 7 – Typically dependable performance from Farman who once again did everything right.
Tom Miller 7 – Commanding performance from right back, looked solid throughout
Andrew Boyce 6 – Struggled at times to cope with Reuben Reid and the other quick Plymouth forwards.
Nat Brown 7 – Saved Lincoln late on with a goal line clearance.
Sean Newton 9 – Look dangerous all game. Defended brilliantly and his crosses were superb.
Todd Jordan 7 – Pinged the ball around well in midfield.
Alan Power 6 – Didn't have the impact he usually has in the centre of everything.
Jon Nolan 7 – Solid in the midfield and never stopped running.
Marlon Jackson 7 – Looked dangerous at times but needs games to further bed himself in .
Ben Tomlinson 6 – Didn't really get into the game as you would expect him to.
Nick Wright 8 – A superb battling performance from the striker, but he was wasteful when he saw the goal, despite that, he deserves his high score.
Subs:
Fofana for Nolan 5 – Didn't really have time to make an impact
Dixon for Jackson 5 – Had a chance late on to win it and didn't take it.
Sheridan for Wright 5 – Again didn't make an impact.
Tweet