Written by Alexandra Diana Lazar.
Fashion is a way of expression. It sends messages through images, sounds and concepts. And one of the newest "delivery" methods seems to be fashion illustrations. No longer reserved for the greatest and designers or for art students, the phenomenon has spread throughout the whole world, launching a new category of design.
Besides specialised university degrees, passionate individuals have jumped at the opportunities the internet has given through them with millions of YouTube tutorials and webinars.
As there aren't two artists that draw in the same style,  I'll show a selection of my favourites.
Launched in 2009, the website is Katie's watercolour paradise. Her artistic outlet has brought her a variety of collaborations with brands such as Valentino, Kate Spade, Lacoste and even Alicia Keys. Her style can be defined as suave, tender, abounding of sequins and soft fabrics in either pastel colours or dark, pungent tones.
"Fashion, whimsy, and nature have forever been lurking inside her mind and onto the blank pages of her watercolor blocks."
Having worked with magazines such as Elle, Marie Claire and Cosmopolitan, the Law and Communication graduate took a U-turn and ended up spending her days drawing away. She finds inspiration everywhere in life. Along that, she enjoys animation concepts, script writing and creative direction. Quite the Jack-of-all trades, she's seduced brands like Louis Vuitton and Apple.
"I just want to make things prettier. I'm a creativity fidgeting person, enthusiast on many projects, many medias and many people."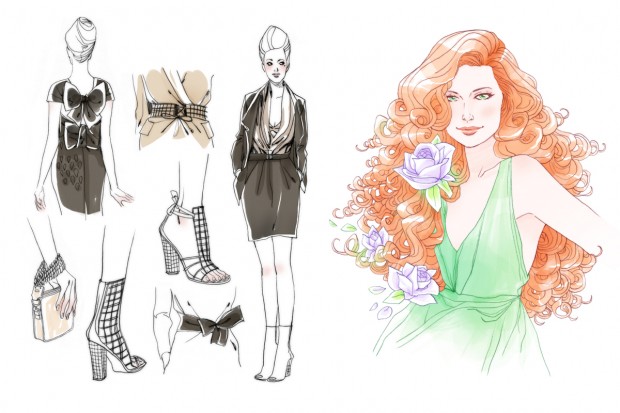 3)      Naranjalidad
A 23-year old architecture student living in Madrid, Naranjalidad has always adored drawing. She used to create commissioned portraits while in high school, but her true calling is happening now.  A very cheerful person, she welcomes people to her website, which is, as she proudly says, made by herself. Her drawings carry a lot of personality and are very vibrant. Though very close to traditional art, they exhibit a great dose of avant-garde. The choice of textures and colours is always a winner and she is certainly of great potential.
And if you're ever in need of some more fashion illustration material, you could check Fashionary and their partner in crime, Fashionary Hand. They provide both physical and inspirational material. An endless resource for the art lovers, the website is an oasis of inspiration.
Tweet