Written by Jess Watt.
Each of us has a specific hair type, whether it's fine, frizzy, afro, straight or  dry… Our hair is a huge part of our appearance so it's important to use the right products to get the results you want.
With 2014 well and truly under way, who doesn't want great hair? Here I give you my choice of top products to try.
L'Oreal Paris Studio Line Silk & Gloss Volume Mousse
Firstly, I think this mousse smells absolutely amazing and who doesn't want their hair to smell gorgeous?
Whether you want curly or straight this product is great. With damp hair squirt a reasonable amount into the palm of your hand, work through your hair paying particular attention to your scalp to really get big, big hair.
To get curly hair, I've been told by my hairdresser that mousse is the better option in comparison to sprays which are very drying to your hair. For curly hair you need to squirt some into your palm and work through but this time, scrunch into your hair, for a curly tousled effect.
This product retails at £3.99 which great considering what the product delivers, it also lasts a long time.
Umberto Giannini Glam Hair Backcomb In A Bottle
When it comes to hair Umberto Giannini is definitely a brand you can rely on, having been around for a long time delivering a range of different hair styling products.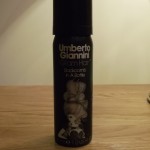 This cute little mini from Umberto Giannini is a stroke of pure genius. I've had this bottle for about a year, I don't use it a lot in honesty but when I do it delivers great results.
In spray form, it's designed to add texture and volume to your hair. So like hairspray you spray where you want volume and texture with your fingers or hairbrush of your choice giving you big, sexy hair
This product also smells amazing, a bit like hairspray. Glam Hair Backcomb In A Bottle retails at £5.61, which is quite pricey for students but a worthy investment!
Bumble and bumble thickening hairspray
Saving the best to last is bumble and bumble's best selling thickening hairspray. Bumble and bumble is a brand used in hair salons and a relatively new brand to hit the high street this year.
This product was given to me as a gift and somewhat annoyingly, I now can't live without it. Not only does it smell amazing (yes I love my hair to smell gorgeous) but it makes your hair super voluminous and really lifts your hair. I also have fine hair which is what the product is specifically designed for.
After washing, when hair is damp, simply spritz over your hair, either blow dry or leave to dry naturally and you'll be left with big, bouncy, lovely smelling hair.
Tweet