Match report by Adam Allcroft
Lincoln City's spirited second half display could not stop Nuneaton Town winning 2-1.
The game started poorly for Lincoln when Thierry Audel made a mistake that was almost costly, but Nuneaton's cross was behind Dave Hibbert. An early let off for the Imps.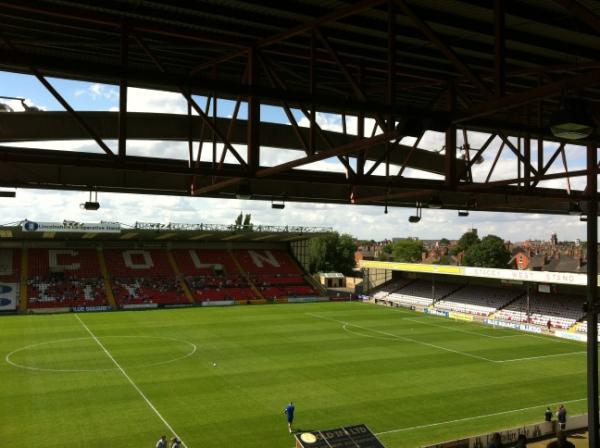 Lincoln would grow into the game and had some decent play, but it was Nuneaton who had the major chances. James Armson was allowed space outside the box and put in a long range drive which Farman steered around the post.
Lincoln enjoyed a good spell as the half grew, with Delano Sam-Yorke bursting past his full back with ease at one point and Charlie Adams working space for a shot, but slipping.
It was probably cruel that Nuneaton scored soon after. The ball was cleared out to Adam Walker who from 25 yards beautifully curled the ball right over Farman's outstretched hand. The keeper would have had a better chance of saving the shot should he have stayed on his line.
Lincoln did get the ball in the back of the net courtesy of an overhead kick from Todd Jordan, but it was correctly ruled offside by the referee. Nuneaton had the rest of the chances with substitute Greg Pearson heading wide from a free kick and after a good team move Brown shot into Farman's hands.
In the second half Lincoln started applying pressure, but Nuneaton refused to crack. Sam-Yorke showed good touches to get past his defender but he fired wide.
However just as in the first half when Lincoln were playing their best football, Nuneaton struck. A silly free kick was given away and Armson swung the ball in for Theo Streete to head in.
The fans started to turn on the team, especially when Lincoln broke three on three with Sam-Yorke wasting the chance with a 35 yard shot that went well wide.
The mood of the fans soon changed when Lincoln scored. Nuneaton gave away a free kick out wide and Power decided to drive it straight into the box. It evaded everyone and went into the far right corner.
From there on out Lincoln completely dominated as they aimed to finish the comeback and get a point from the game. Sean Newton came to life with his first shot bouncing into the hands of Belshaw, the Nuneaton keeper. His second went even closer going just wide.
Set pieces were Lincoln's best option, and on the 82nd minute an Imps corner caused an almighty scramble in the box with plenty of shots being blocked before Nuneaton cleared the ball for another corner. The corner was quickly cleared and Power shot wide.
Lincoln couldn't find an equaliser despite good pressure, and the final whistle went with the score 2-1 to Nuneaton Town.
Player Ratings
Paul Farman – 6 – Good saves but was caught out by Walker for first goal.
Tom Miller – 7 – Solid but unspectacular.
Luke Foster – 6 – Solid but one mistake let Pearson in.
Thierry Audel – 6 – Poor start but soon got into the game
Sean Newton – 8 – A constant threat on the left. MOTM.
Todd Jordan – 7 – Almost got the crucial equaliser.
Charlee Adams – 7 – Passed well, but not much else.
Alan Power – 7 – Scored a great goal but tried many things that simply didn't come off.
Conner Robinson – 7 – Couldn't get into game but was occasionally a threat.
Ben Tomlinson – 5 – Didn't affect the game.
Delano Sam-Yorke – 7- Made some good runs but some touches did let him down.
Subs
Jake Sheridan – 7 – Was lively and earned a corner.
Mitch Austin – 5 – No effect on game.
 Post-match reaction – by Max McLean
Gary Simpson was left disappointed that his side's late rally couldn't salvage a point from an entertaining 2-1 defeat.
"It wasn't a great game with the conditions, the pitch and the wind and what have you, and in the first half we couldn't get a foothold at all.
"I thought their two centre halves were big and strong, and they're always a threat from set plays."
The goal that put a result out of Lincoln's reach, making it 2-0, was a classic set-piece goal.
Simpson said, "It was a great ball in. The quality from Armson was terrific."
"We're disappointed with it obviously but it was a great ball in. What they do they do well."
Lincoln rallied after narrowing the deficit to 1-2, creating an interesting final 20 minutes, and Simpson bemoaned the lack of an equaliser.
"We tried to force the issue a little bit, and to be fair to the lads they never packed in. We tried to create something and to be fair we did, it's just frustrating that we couldn't get something out of the game."
Tweet