Written by Luke Thompson.
This year's upcoming Lincoln Students' Union elections will see six candidates run for the role of Vice President for Welfare and Community.
Each of them hopes to take over the role from its current holder Brian Alcorn.
The Linc is giving students a chance to catch up with the candidates' profiles as voting opens on February 24 from 9.00 am.
Emma Jane Farry
Emma Jane Farry is experienced in leading young people and representing their interests.
She has previously been a school representative for the welfare of students and leads youth volunteer groups for the National Citizens Service.
Emma is running on the principles that the Student Union must have more involvement in helping students with housing issues and organising events to teach them how to deal with academic stress.
"The student union has more powers and influence available to its members but this has not been communicated efficiently to all students."
Emma would also like to promote more charity work at the university.
Further details about Emma Jane Farry, including her manifesto, are available on the Lincoln Student' Union website.
Gooleswari Seeburn
Gooleswari Seeburn is campaigning under her chosen name, 'Google'.
Google's main objectives place particular importance on representing "equality and diversity" on behalf of the SU.
"At the university we pride ourselves with diversity and by doing so we are at the forefront of eliminating discrimination," she said.
"By listening to students' opinions, we can represent the concerns of students from all groups facing forms of discrimination."
Google would also like to protect student's "health, safety and culture" through strengthening tactics such as the buddy scheme, organising a mental health week at the university and emphasising the importance of events such as World Aids Day and Black History Month.
Further details about Gooleswari Seeburn, including her manifesto, are available on the Lincoln Students' Union website.
James Bevan
Third-year Politics student, James Bevan, has sat on five separate academic committees as a school representative for social and political science.
At the age of 18, James ran for district councillor. He said: "The notion of welfare and community has been at the forefront of my thinking for many years."
In James' words, he is "passionate" and "experienced" and would like to implement changes such as allowing university sabbatical officers to offer formal advice to students.
He would also like to give students a voice for the first time on the committee which decides which housing agencies the university awards accreditation to.
Further details about James Bevan, including his manifesto, are available on the Lincoln Students' Union website.
Lauren May Richardson
Lauren Richardson believes studying a drama degree has lead to her becoming "outgoing, confident and a massive team player."
Her current role as residential coordinator at the Junxion student accommodation means she has experience in the area of housing.
Lauren wants to incorporate more international students into the buddy scheme. She would also look to expand students' knowledge of sexual health and wants to make the SU seem more approachable when students are in need of support.
"I want to be someone that is known for being the person to talk to about any of the problems you may be facing," she said.
Further details about Lauren Richardson, including her manifesto, are available on the Lincoln Students' Union website.
Olivia Frances Hill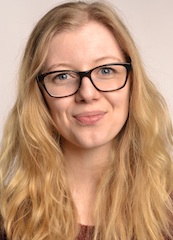 Olivia Hill is concerned that there is a "likelihood of cuts" to student funding "with potential losses of £1.9m."
Olivia says she will make it a priority to oppose cuts to student funds and "lobby local and national government to reinstate support for students from household incomes of £25,000 and under."
She says she would also like to bring the student community closer together by offering further support to liberation groups such as the LGBT, disabled and mature student communities.
Further details about Olivia Frances Hill, including her manifesto, are available on the Lincoln Students' Union website.
Raymond Ndhlovu
One of Raymond Ndhlovu's main goals if elected is to "be available to students at any time on social media, email and office hours," as his position is "to help."
Raymond would like to re-enforce the campaign for a zero-tolerance policy on bullying at the University.
He would like to help all societies equally as "no one society is above another."
Raymond would also like to work alongside Lincoln Council to clean up the image of students in the wider community and resolve any disputes with the general public.
Further details about Raymond Ndhlovu, including his manifesto, are available on the Lincoln Students' Union website.
Tweet