Lincolnshire racing driver Jack Harvey said he's targeting the Indy Lights title after clinching a podium finish in his first race in the formula.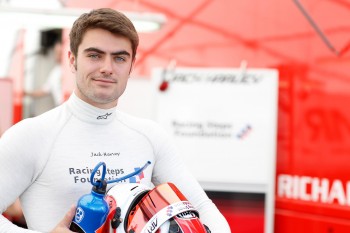 The 20-year-old delivered a scorching charge from sixth to third, crossing the line behind race winner Zack Veach and second-placed Gabby Chaves at the St Petersburg street circuit in Florida.
Harvey who drives for reigning champions Schmit Peterson Motorsport told Linc Sport that whilst tasting the champagne on his debut was satisfying, he's thirsty for victory next time out:
"It was good to be the fastest SPM (Schmit Peterson Motorsport) driver at the weekend but obviously the team's ambition and my ambition is to win.
"So although we are happy to get one up on my teammates, we still got beaten by two other guys and ideally I'd like to get one up on the whole field.
"We acknowledge we need to be better because we've come to win the championship so finishing third in a harsh way wasn't good enough," added Harvey.
The Bassingham-born racer, who had posted the sixth quickest time during practice, started the race from the same position after qualifying was cancelled due to heavy rain. This meant that the practice times were used to determine the start order on Sunday. Harvey claimed this hindered his team in particular as they'd been running slower used tyres in practice, and believes that on fresh rubber in qualifying he could have challenged for pole:
"We were geared largely around qualifying and while we anticipated a wet qualifying, what we didn't anticipate was qualifying being cancelled out right.
"Because of that we chose not to run new tyres in practice, to save them for qualifying and when they said they were not going to run qualifying we were obviously the ones hindered more than others," he explained.
However, the injustice only served to fuel the former British Formula Three Champion's immaculate charge through the tight and twisty streets of St Petersburg on race day. Harvey said his ability to sustain higher focus levels than his opponents, when racing just millimetres away from the tracks imposing concrete walls, gave him the edge:
"I've always done quite well on street circuits by being able to keep that extra focus and not getting distracted, whereas the other drivers make mistakes, which is why I was able to move through the field. I just love street circuits," explained Harvey.
A talent he proved on lap 20 when he was awarded pass of the day for an audacious manoeuvre around the outside of Alex Baron through a high-speed chicane.
Harvey who finished fifth in the GP3 championship last year gave up on the traditional path to Formula 1 after admitting his dreams of reaching the top of the sport had been dashed by drivers who pay to be there.
Harvey accepted he was unable to cough up the millions required in sponsorship funding to attract a Formula 1 outfit, and moved to the Indy Lights Series instead with the hope of a future in America's most prestigious single-seater formula, Indycar.
The 20-year-old said that Indycar not only represents a world class formula that still chooses talent over money, but also has a fantastic atmosphere:
"The atmosphere is contagious they're all really enjoying themselves, they're having great time and at a lot of the circuits the spectators can get really close to the action,
"In terms of atmosphere it easily rivals that of Formula 1 and to be part of that even at the small level that I am at it is great," added the Indy Lights rookie.
Tweet