Luis Suarez hit the headlines for all the wrong reasons yet again during Uruguay's 1-0 win over Italy.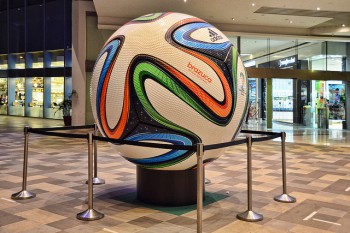 The Liverpool striker appeared to bite Giorgio Chiellini during their Group D clash.
Suarez of course has a history of biting players. In April 2013, he was banned for 10 games for biting Branislav Ivanovic in a Premier League match.
He was also banned for seven games for biting PSV Eindhoven midfielder Otman Bakkal's shoulder while Ajax captain in 2010.
FIFA are said to be looking into the incident and Suarez, who look dejected as he left the pitch, is likely to face severe punishment in the coming days.
The bite will overshadow the fact that Uruguay have qualified for the last 16 as a result of their win at the same time knocking the 2006 winners out.
In a winner takes all game, Italy were reduced to 10 men early in the second half as Claudio Marchisio dangerously left his studs up when challenging for a ball with Egidio Arevalo.
A draw would have seen the Italians progress on goal difference but with less than ten minutes to go, their hearts were broken as Atletico Madrid defender Diego Godin headed in.
Uruguay held on for the win but it was not enough to see them win the group as Costa Rica picked up the point they needed against already eliminated England, with the game finishing goalless.
Roy Hodgson made nine changes to his starting line-up, including bringing in Frank Lampard for what may be his final cap.
Both teams had chances in the first with Ben Foster tipping Celso Borges' free-kick on to the bar.
Sturridge, one of the two men to keep his place, was wasteful and missed another fantastic chance in the second half when he was put through after some neat build up with Jack Wilshere but shot wide.
Adam Lallana grew as the game went on and nearly set up Sturridge when he finally managed to get in behind the Costa Rica defence.
Wayne Rooney came off the bench and nearly broke the deadlock with an attempted chip but that was as close as England came in the final minutes.
Steven Gerrard came off the bench to partner Lampard in the final stages. It could also be the Liverpool man's final appearance for his country.
England will be thoroughly disappointed with the World Cup though, finishing bottom of Group D, although they will be pleased to have picked up a point to go with the positives of the night, including promising performances from youngsters Luke Shaw and Ross Barkley.
Group C had the most dramatic of conclusions.
Greece qualified thanks to a last-gasp penalty from former Celtic striker Georgios Samaras.
With the scores tied at 1-1, Ivory Coast were going through but Samaras, who won the penalty in stoppage time, calmly converted.
It was Greece who did take the lead through Andreas Samaris before half time but Ivory Coast managed to equalise with just fifteen minutes to go through Swansea Wilfried Bony, a goal which the Ivorians thought would see them through.
And that was the case until deep, deep into stoppage time.
Greece will face Costa Rica in the Second Round.
Already qualified Columbia thrashed Japan to end their hopes and top the group.
Goals from Juan Cuadrado, a brace from Jackson Martinez and a late forth from James Rodgriguez sealed the win which will see Columbia face Uruguay in the final sixteen.
Shinji Okazaki's steered header drew Japan for a while but the Japanese finish bottom of the group.
Today at the World Cup…
Today see's the conclusion of Group E and F.
In Group F, the top two, Argentina and Nigeria face each other. Lionel Messi's side have already qualified and need a point to top the group whilst Nigeria just need a point to qualify.
Should they lose, it will open the door to Iran, who face already eliminated Bosnia. Iran will more than likely need a three goal swing as they have scored less goals than Nigeria, which is likely to happen if they win and Nigeria lose.
In Group E, France need a point to secure qualification and to win the group as they face Ecuador. They will likely qualify with a defeat anyway, as their goal difference is far superior.
To qualify, Ecuador just have to equal the result of Switzerland, who face bottom of the group Honduras. The Swiss are level on points with Ecuador but with a two worse goal difference. They will have to better what Ecuador do or win by two more goals than their South American counterparts.
Tweet