The start of the second round. The time when the favourites start to rev up their engines. In 2 weeks time, we will know which two teams will compete for the greatest prize a footballer can win but first there are three rounds of matches to get through, which started yesterday in dramatic fashion.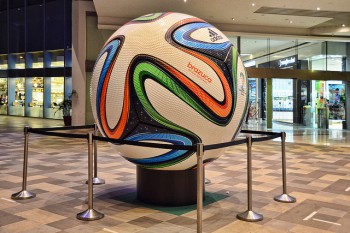 First up, the hosts, Brazil, took on the impressive Chileans and everything looked to be going smoothly for them when David Luiz turned in a corner early on.
But the Brazilians showed their defence frailties when Sanchez was allowed to equalise from a poorly defended throw-in after 32 minutes.
1 all at half-time and the pressure was building and Brazil were struggling to cope in the second half as both sides were very evenly matched.
Hulk did have the ball in the net, but bravely, English referee Howard Webb ruled it out for handball.
The game was played at a frantic pace throughout and that continued all the way through to the 90th minute, where neither side could find the goal to send them through to the quarter-finals, so for the first time, a game went to extra time.
Brazil dominated the extra half an hour, with Hulk, Neymar and Jo all coming close to grabbing the vital goal, but none of them could manage it.
Despite their domination, it was Chile who came closest in the last minute of extra time when Pinilla rattled the bar, nearly sending the hosts out.
So, the game went all the way to penalties and the world was gripped by the pure intensity of World Cup football.
It was Brazil who, just about, held their nerve when Jara's final penalty cracked against the post.
The hosts will play Colombia in the first quarter-final on Friday after the Colombians defeated the Uruguayans with two goals for James Rodriquez.
Colombia were electrifying and the absence of Suarez was all too much to cope with for Uruguay who showed little resistance in the 2-0 defeat.
Today at the World Cup
Looking at this part of the draw, you'd who think it's the Dutch who have it all to lose.
They take on Mexico in the first game who will still be a tough match, especially when you consider the passion showed by the manager Herrara from the touchline.
The winner of that game will take on the winners from the unlikely match up of Costa Rica and Greece, both of whom have defied the odds to make it to through the group stage.
You'd expect Holland to go through but it's any ones guess who will win between the other two.
Tweet