Day 2 of the 2014 FIFA World Cup and well, what a day. It would be easy to talk about the second game alone but let's be fair and summarise chronologically, beginning with the first game of the day, Mexico vs Cameroon.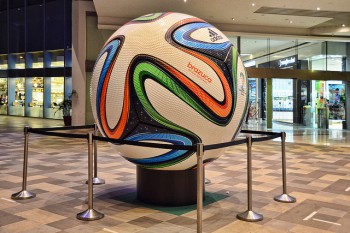 Even though they lost, Croatia acquitted themselves very well on opening night so both sides needed a win to get their campaign off to a good start and it seemed that only Mexico intended to do just that.
Cameroon played with a back six, but as Clarke Carlisle kept saying, they didn't actually do any defending, which allowed Mexico to open them up twice and score two perfectly good goals, only for them both be ruled out for offside by some more dodgy refereeing.
In the second half, Cameroon again played with a back six, allowing Mexico to press and press and press and eventually unlock the door, when Dos Santos' was saved but only into the path of Peralta who swept the ball home to earn Mexico their first three points of the tournament and make it very tough for Cameroon to get out of the group.
Game two and wow. The Netherlands vs Spain. A re-run of the 2010 final and the Dutch were out for revenge and oh boy did they manage it.
Spain looked to be at it again with Alonso converting a penalty won by Brazilian born Diego Costa but when Silva missed a good chance late in the half to double Spain's lead, Van Persie, seconds later, galloped up the pitch to send a looping header over Casillas to level at half time.
Football is about fine margins and it could have been 2-0 to Spain at halt time, instead it was 1-1.
In the second half, The Netherlands and in particular Van Persie and Robben destroyed the Spanish defence.
Robben stayed calm to give the Dutch the lead in the 53rd minute and from then on, they tore through Pique and Sergio Ramos at the heart of the Spanish defence.
The Dutch scored 5 all together, embarrassing the World and European champions, making previous world-beaters look like beaten losers.
The result has set this World Cup alight but an important reminder is needed here. Spain lost their first game of the last World Cup, suffering a 1-0 defeat to Switzerland but it has to be said, recovering from this set-back would be remarkable.
Game three of day 2 saw Chile take on Australia. Chile are many peoples tip for the surprise package in this tournament and they started superbly, scoring two goals in the first 15 minutes, through Sanchez and Valdivia.
At the point it was a matter of how many but Australia, as you'd expect really considering their national mentality, fought back and managed to halve the deficit through a header from former Everton player Tim Cahill.
2-1 at half time and the Aussie's had hope and came out in the second half and they looked the more dangerous for long periods of the half. Chile are excellent going forward but if Australia can expose them defensively, what will Holland do to them.
Despite a huge effort from Australia, Chile did manage to hold out and confirmed the victory in the 93rd minute when Wigan Athletic player Beausejour sent his shot into the bottom corner of the net.
Australia already staring down the barrel but Chile's win sets up a crucial game next Wednesday at the Maracana against Spain.
Today
England obviously. They kick-off at 11pm against the Italians and every game before that will be 'before the Lord Mayor's show.'
Who will start? Will they man mark Pirlo? Will Rooney have a good World Cup? Will Sterling start? So many questions to be answered.
The other games are Colombia vs Greece, Uruguay vs Costa Rica and Ivory Coast vs Japan at 5pm, 8pm and 2am (Sunday) respectively.
How will Colombia fare withouth Falcao, will Uruguay cope without Suarez and how will an ageing Ivory Coast squad cope against the quick and technical Japanese?
All questions that will be answered on Day 3 of the 2014 World Cup.
Tweet