Day 4. The day that Switzerland, France, Argentina and Lionel Messi joined the World Cup party.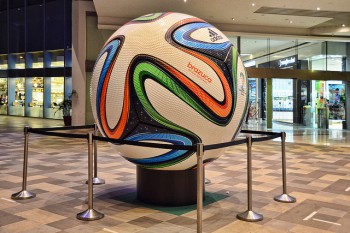 Game 1 of the day saw Switzerland grab a late winner to stun Ecuador after they had led the game.
Ecuador's other Valencia gave them the lead half way through the first half, but Switzerland pegged them back straight after half time and stole it with seconds remaining when Seferovic converted to earn a priceless win.
Later on, France took on Honduras and made light work of their CONCACAF opponents.
Honduras, who played England in a fiery pre World Cup friendly in Miami, kicked lumps out of England and did the same against France and it took composure and patience for France to break the deadlock, which they did when Palacios fouled Pogba in the box allowing Benzema to score from 12 yards.
Palacios was sent off for that incident and in the second half France made their extra man count and scored another two goals to earn an easy win and get their World Cup off to a good start.
The late game saw Messi and the Maracana meet. A football partnership made in heaven but in the first half, it didn't look like that.
Argentina did take the lead through an own goal but Bosnia and Hercegovina, in their first ever World Cup since being a recognised FIFA nation, gave a good account of themselves looked dangerous.
In the second half, Messi woke up and doubled Argentina's lead scoring a fantastic solo. For those who watch La Liga, it was a typical Messi goal but the first time he has done it on the world stage.
Bosnia and Hercegovina did halve the deficit but it was too little too late,
Argentina secured the three points but was unconvincing but they normally say, the winners start slow.
Today
Germany start against Portugal in a mouth-watering encounter in Salvador in the first match in Group G.
Then we return to Group F when Iran takes on the Super Eagles Nigeria and we finish off with Ghana vs USA.
It's been a fantastic World Cup so far with no draws and lets hope for a similar story today.
Tweet