Group F includes, Argentina, Nigeria, Iran and Bosnia and Herzegovina. Here's Adam Tomlinson with this preview.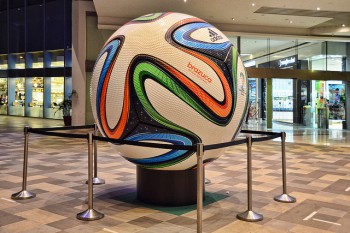 Argentina 
Key Players:
Lionel Messi, would be the obvious choice for key player, as he has scored 10 goals in the last 14 world cup qualifiers for Argentina and is one of the worlds best players if not the best. However, another key player would be Javier Mascherano. This is due to him sitting in front of the back four, adding extra protection for their sometimes questionable defence.
Manager:
After being part of the Argentine back room staff in the 1998 World Cup, Alejandro Sabella was appointed manager in 2011. One of his first moves was to appoint Lionel Messi as captain, which inspired his good international form. He currently holds a win percentage of 59% only losing 4 games during his managerial reign.
Overview:
The attacking force that runs through the Argentina squad is arguably one of the best and most potent in the world. However, a recent struggle has been finding the balance between defence and attack, which could cost them once again. Although if top performances come from Messi, Di Maria, Aguero and Higuain then many teams will struggle to beat them.
Verdict:
Argentina should come out top of their league, which would mean the most probable tie would be against would be against Ecuador or Switzerland. With the attacking prowess that they have they could go far in the competition. However, their defence could falter when the play harder opposition meaning they may only reach the semi finals.
Bosnia-Herzegovina:
Key Players:
A key player for Bosnia would be Edin Dezko. He ended the season in top form for Man City and could be the player to take them into the second round. Another influential player would be the dead ball specialist Miralem Pjanic, who will play either behind Dzeko or out wide.
Manager:
The former Bosnia attacking midfielder, Safet Susic has been in charge since 2009. He lead them to gain their highest ever FIFA World Ranking of 13th and is the first manager to guide them to their first ever major tournament. Between August 2012 and August 2013 he also won nine consecutive international matches.
Overview:
Until 1992 Bosnia-Herzegovina was part of the Yugoslavia national football team. This is the first major tournament for Bosnia after the were knocked out of the 2010 World Cup and 2012 Euro's play off matches by Portugal. They qualified top of their group, on goal difference ahead of Greece.
Verdict:
After the promising form shown through the qualifiers and the attacking force of Pjanic and Dezko could serve them well. They could finish in second behind Argentina, but this would be close with both Nigeria and Iran. Although the probability of them passing the second round is very slim.
Nigeria
Key Players:
The Premier League contingency provides Nigeria's most important players like Liverpool's Victor Moses or Chelsea's John Obi Mikel. However, away from the Premier League one of Nigeria's dominant figures is Lille goalkeeper Vincent Enyeama. The keeper has 90 caps and his experience between the sticks could be very useful.
Manager:
There head coach, Stephen Keshi has been managing in international football since he retired as a player following spells at Togo and Mali. The 52 year old was born in Nigeria and has been seen as a father figure by the younger players.  He is known for picking players on form not on their reputation.
Overview: The team is full of experience throughout the team. There most capped player, Joseph Yobo is in the squad looking to build on his 96 caps. They also have a wealth of talent with players included from all the top leagues in Europe.
Verdict:
Similarly to Bosnia they have a chance to get out of the group stages, however, they will need the likes of Moses and Mikel to be on top form. In addition to this they may need results to go their way. However, third is probably the best they can hope for out of the group stages.
Iran
Key Players:
Iran's captain, 33-year-old Javad Nekounam is possibly the most important player they have. He martials the centre of midfield and also chipped in with five goals in qualification. However, Charlton striker Reza Ghoochannejhad is also one to watch as he scored six goals in six games in 2013.
Manager:
Carlos Queiroz, a name Man United fans will have heard of brings a lot of experience to that table. After being Sir Alex Fergusons number two for five years he has learnt his trade from one of the best in the world. In addition to this he has managed Real Madrid and had major tournament experience with Portugal in 2010 World Cup.
Overview:
Iran are ranked 43rd in the world and finished top of their group during qualification. They have a wealth of experience throughout the team. However, not many of the players have played in the top leagues around the world.
Verdict:
It could be an early exit to the World Cup for Iran. However, if Queiroz does get his team and tactics right, they could squeeze into that second place spot that is up for grabs. Every game is important to Iran who cant afford to slip at any point if they want to progress out of the group stages.
Group F Prediction:
Argentina
Bosnia-Herzegovina
Nigeria
Iran
Tweet