Last, but by no means least, here is your team by team guide for group H, containing Russia, Belgium, South Korea and Algeria by Josh Barber.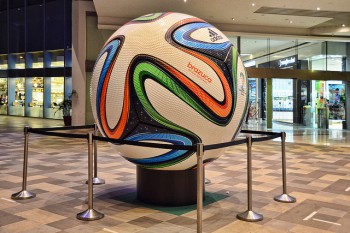 Russia:
Managed by Fabio Capello, who led England last time out at the world cup in South Africa, will be looking to take his Russian team further than he did with the English, having only made the last 16.
The one to watch is certainly Alan Dzagoev. He was outstanding at Euro 2012 with his clever running, good feet and fine finishing, the Russian fans will be hoping for more of the same in Brazil. He plays on the right of midfield and is a favourite with Capello due to his work rate, which fits the manager's ethos perfectly.
With their hard working, determined style of play, alongside some world class players, it is hard to see Russia not progressing into the last 16. From there on in, it becomes a lottery, if all goes to script in group G it is likely that Russia would have either Portugal or Germany in the first knockout round. Reaching this point in the competition, for me, would be seen as a success for the Russians.
Belgium:
A team not to be taken lightly. As a team, Belgium has arguably one of the strongest line ups in the competition, and it's hard to know who to leave out, but they lack a lot of experience on the biggest International stage of them all.
Manager Marc Wilmots, was a class act as an attacking midfielder, with over 140 caps for Schalke 04. He has played in three world cups himself, but the lack of managerial experience could hinder Belgium. He has no previous world, or European cup experience as a manager.
It's hard to know where to start when choosing a potential stand out player for Belgium. Courtois, Kompany, De Bruyne, Hazard, Witsel, Bakkali, Lukaku, Benteke, the list goes on. At the age of just 21 nothing seems to have fazed Lukaku on his rise up the football ladder, if he keeps his nerve, he could tear defences apart with his strength and powe.
My verdict for Belgium is that they will top the group and have the potential to go deep into the competition, should they avoid the Germans in the last 16 I can see Belgium surprising many and reaching the semi finals.
South Korea:
This is the 8th consecutive time that South Korea have reached the world cup finals, with their best ever performance coming on home soil, back in 2002 when they reached the semi finals.
In what is clearly a young squad, which lacks any real experience, Bayer Leverkusen's attacking midfielder Son Heung-min, who fast and a good finisher has the potential to pull the strings for South Korea in the group stages. It will be interesting to see if Heung-min can help cause an unexpected result or two again Russia and Belgium to send the South Koreans into the last 16.
Manager Hong Myung-bo, also their most capped player ever with 136 appearances for his country before retiring in 2002. Hong led the Olympic side to bronze at London 2012, knocking out Team GB on penalties.
With Belgium and Russia being the favourites in the group, it would be a surprise to see South Korea make it into the knockout stages, but they certainly won't be a pushover, if either team doesn't treat South Korea with enough respect on the pitch we could see one of them suffering and gifting a knockout place to the South Koreans.
Algeria:
They topped their group in qualifying, however, they only reached the world cup on the away goals rule against Brukina Faso. At 1,000/1 to be lifting the world cup in Rio de Janeiro on the 13th July it's safe to say getting to the world cup is clearly an achievement.
Algeria are Managed by Vahid Halilhodzic, who guided the Ivory Coast to 2010 world cup finals but was sacked four months before tournament. Having made it to the world cup this time round he will be hoping his team can cause a few upsets
Algeria aren't one of the most likely teams to have individual players who will single handedly light up the world cup, but they do have a few players you might be familiar with. Three of their squad are based in England and they are Essaïd Belkalem (Watford), Nabil Bentaleb (Tottenham), Djamel Abdoun (Nottingham Forest). Most likely to make an impact out of these three is Bentaleb, at only 19 he has just 3 caps to his name, but has scored one goal. He'll need to add to this tally if Algeria are to escape out of group H.
It's hard to see Algeria progressing at all in the competition. However, if they were to finish 3rd in their group it would be a great achievement, but this, in my opinion is unlikely to happen.
Tweet