With many shock exits in the group stages like Spain and Italy and underdogs such as Costa Rica and Greece progressing anything could happen in the next stage of the World Cup.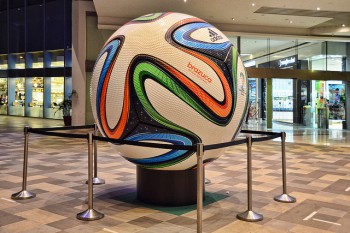 Especially in the first game, when the hosts Brazil take on Chile. The Brazilians did win their group but there performances have been questioned, when they face a strong attacking side. However, theirs no doubting the force of their attacking plays. Especially through Neymar. Chile will be looking to capitalise on the Brazilian's with their fast counter attacking football. While also shut down any Brazilian attacks with their high-energy performances. After beating Spain in the group stages, they could provide an upset.
Another stand out game could be Netherlands v Mexico. Netherlands will be high on confidence after collecting maximum points from their group and putting five past the previous World Champions. However, the Mexicans shouldn't be looked over as they put in a valiant performance to draw 0-0 with the Brazilians and could sneak a win against the Dutch.
Argentina v Switzerland could also be a tough game to call, as Messi's team didn't win a game by more than one goal. Even though they did take maximum points. Switzerland will be looking to take advantage of Argentina's defensive frailties through Shaqiri and Mehmedi. Although, they will have to combat the attacking threat of Messi and Higuain.
A final game that would be close to call would be Belgium v USA. Although the Red Devil's took maximum points from their group they have been criticised for a lack of attacking flair which the Americans could take advantage of. In addition to that the USA were unfortunate not to take any points off Germany and would be a team many teams would be worried about facing in this round.
The fixtures for the Round of 16 are below:
Brazil v Chile
Columbia v Uruguay
Netherlands v Mexico
Costa Rica v Greece
France v Nigeria
Germany v Algeria
Argentina v Switzerland
Belgium v USA
Tweet