The first of the two quarterfinals and we couldn't have been delivered two different type of matches.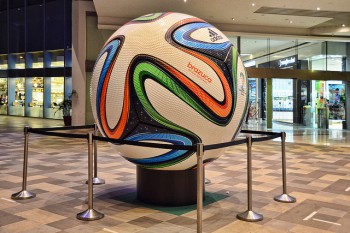 First up saw France take on Germany in the Maracana in a typical tactical stalemate where a set piece decided the game.
That set piece came from Hummels who headed Germany ahead in the first half.
Both teams were evenly matched but the German ball retention meant that France could never muster anything to really trouble Neuer in the German goal.
As quarterfinals go, the game wasn't particularly exciting but it was a game for the purist and to see how an excellent tournament team, like Germany, progress through a tournament.
They defended well and squeezed all the life out of France and when it came to the last 10 minutes, they couldn't put up the fight to the inevitable defeat.
The later game saw a South American clash between Brazil and Colombia and it was the usual passionate, gun-hoe affair.
Brazil, like they did against Chile, took the lead through an early set piece when Thiago Silva scored from close range.
The game was incredibly feisty, with tackles flying in from all over the place, with the referee seemingly unable to control the game.
The first half was played at a frantic pace, with both sides looking to play attacking, free-flowing football but it was the Brazilians who maintained their lead at the half time break.
Second half and Brazil doubled their lead with a stunning David Luiz free kick. Things were looking bleak for Colombia.
A few minutes later however, Rodrigues managed to get them back into the game with a penalty but unfortunately for them, Colombia couldn't find an equaliser.
So Brazil went through, but not without cost.
Firstly, the animosity directed towards them…
It seems like the whole world hated how Brazil played. They were no doubt forceful and yes, they have been lucky to progress, but they have progressed and if they win the tournament being pragmatic, being clinical, and not just being the best and playing the best football ever, will anybody in Brazil care?
Of course they won't. This Brazil has found a way of winning. That shouldn't be looked down upon for doing that.
The other two problems. Neymar out of the tournament with a fractured vertebrate will be a huge blow to them and add to that losing Thiago Silva to suspension for the semi-final, Brazil will be up against it when they play Germany.
Today at the World Cup
The other two quarterfinals and it'll be an intriguing match-up between Argentina and Belgium, but you'd have to think Messi with continue to drag Argentina through to the final?
Next up, Holland take on Costa Rica in match that surely Holland will win, but don't rule out this impressive Costa Rica side, who don't forget beat Italy, Uruguay, Greece and got a draw against England, despite looking disinterested.
Tweet