BY DANIEL SHEPPARD
Yesterday night, it was sadly reported that Lord Richard Attenborough had died aged 90 years old. The son of the Oscar-winning British film actor and director reported that the star had passed away at lunchtime on Sunday.
In tribute to Lord Attenborough, who had an incredible career that spanned an incredible six decades, I present you with a short list of films that make essential viewing, either starring or directed by the legend that was.
Miracle of 34th Street (1994)
Starring Richard Attenborough as Kris Kringle, you're bound to come across this film every Christmas. This timeless story of a little girl discovering that Father Christmas is real will pull on your heartstrings. If you don't want to watch a festive film whilst we're in the second half of summer, there's no excuse not to blow the dust off the DVD in December and watch it over a Quality Street or ten!
Jurassic Park (1993)
Directed by Steven Spielberg, this was the film that brought dinosaurs back into the mainstream and struck fear and nerve into millions as human size reptiles and a giant T-rex attempt to consume Richard Attenborough and his co-stars. After not starring in a film for over a decade, Jurassic Park revived Attenborough's acting career and with that, earned an incredible three Oscars for Best Sound, Best Effects (Sound Effects Editing) and Best Effects (Best Visual Effects).
Chaplin (1992)
In a film that saw Robert Downey Jr. nominated for Best Actor in a Leading Role in the 1993 Academy Awards, Richard Attenborough directed this fantastic and critically acclaimed biopic of the life and times of comedy filmmaker Charlie Chaplin.
Gandhi (1982)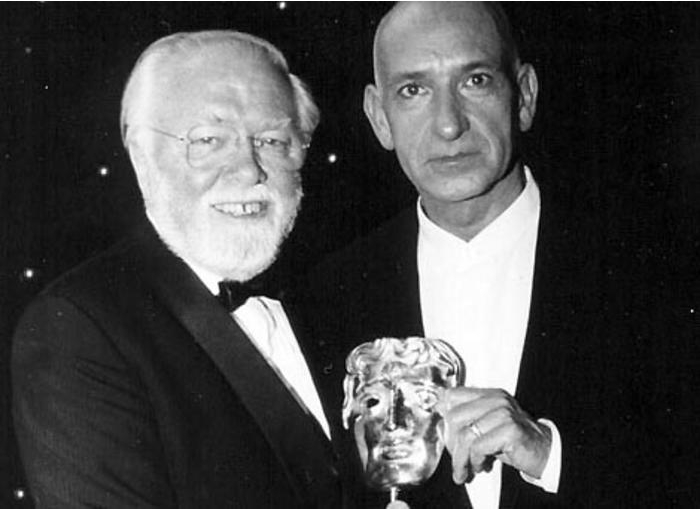 Arguably being the highlight of his career, Lord Attenborough directed this biopic of Mohandas K. Gandhi and wiped out the 1983 Academy Awards, scooping up an impressive eight Oscars including Best Picture and Best Director. Other notable categories the film earned awards for include Best Actor in a Leading Role and Best Writing.
The Great Escape (1963)  
You come across it every Boxing Day as you scan through the TV guide, The Great Escape showcases Attenborough's great acting talent as he co-stars alongside Steve McQueen. An iconic title in the War genre, it's inevitable that you'll watch this film at some point or another!
Tweet