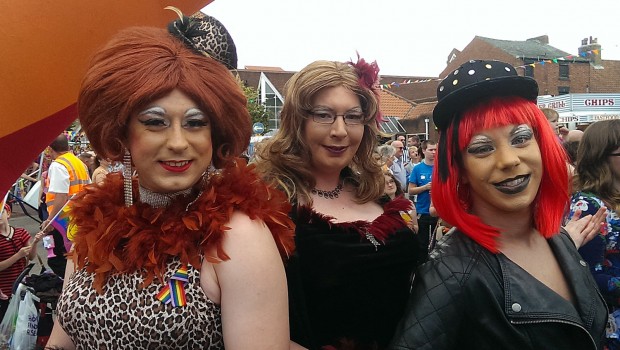 City Square was full of rainbow flags and smiling faces at the annual Lincoln Pride event on Sunday.
Despite growing acceptans for Lesbian, Gay, Bisexual and Transgender (LGBT) people in the media and many pride events taking place across the country every year, many still feel stigmatised.
"We have come down to show our support for LGBT rights. If you are gay or not does not matter, you should have the same rights to express yourself as anyone else", says Kass Clark, Rebecca Thwaites, Connie Challis and Fern Challis who is among the many visitors of the Lincoln Pride event.
Jessica Turncroft is counsellor with Alphabet Counscelling, a counselling firm based in Market Rasen specialising in helping LGBT people, said stigma and negative attitude cause problems for many youths in the area. She said:
"Many young gay or trans people are very anxious about coming out. They are more likely to suffer from depression and attempt suicide because they feel that they will not be accepted by society.
She also said it should be much more support and help available to young people, especially in schools and universities. Awareness has to be raised across the board about LGBT issues and bullying of young people because of sexual orientation. She said some regions are quite liberal but that Lincolnshire must open up.
"Lincolnshire is lagging behind many other areas of the country. People here are set in their ways so to speak. We hope people in this county will follow the national trend and become more open and tolerant."
PCSO Zoe Watt from Lincolnshire Police, said that hate crime is still a underreported problem. She said:
"The threshold for reporting hate crime is often high and verbal abuse on the street is often not reported to the police. We want to tell the LGBT community that we take these issues very seriously and will investigates all reported incidents.
At one of the many stalls Thomas Kohler, a history student at the University of Lincoln, is gathering signatures for an appeal to abolish the 12 months abstinence restrictions on gay and bisexual blood donations. He said the ban is unfair and based on how things was thirty years ago.
"The rule requiring gay and bi blood donors to abstain from sex in 12 months before giving blood is discrimination. It is based on statistics from the 1980s when the gay community was a high risk area but that is not the case any more. "
Tweet