Written by Lewis Woollard
So it's September, the summertime sadness and hangover from the long sunny days has finally begun to sink in, but it's too early to let go. As the nights draw in, you seek out that last hit from the holiday season before reality nestles its way back in.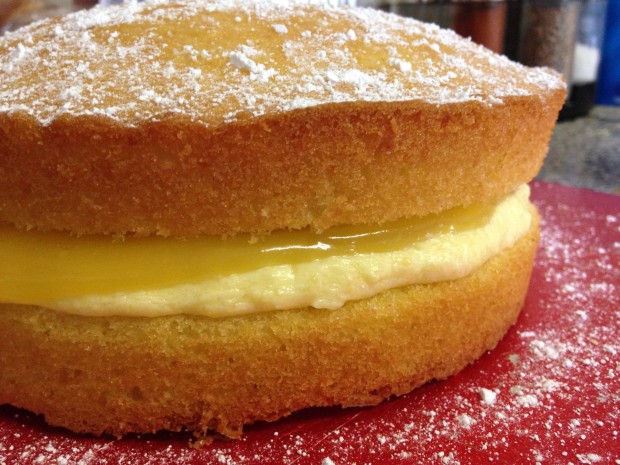 Do not worry and fear not, because I have mustered up the perfect recipe to relive those summer memories with a simplistic, yet tantalising, layer cake that'll brighten your day at the worst of times! A fresh, vibrant and zesty lemon cake, to put a spring back in your step and a fluffy sponge which will only leave you craving more.
A layer of moist and airy citrus cake bedded by a whipped layer of lemon butter cream, then topped with a tongue-teasing lemon curd, finished off by a dusting of sweet icing sugar. This is perfect for any occasion, especially for blitzing those post summer blues!
Ingredients…                       (Makes 2 x 20cm Round Cakes)
Lemon Sponge Layers…
225g Butter
225g Caster Sugar
Zest of 1 Lemon
4 Eggs
225g Self Raising Flour
Lemon Buttercream…
125g Butter
150g Icing Sugar
Zest of 1 Lemon
Extra Ingredients…

Jar of Lemon Curd
Juice of a Lemon
Icing Sugar for Decoration
Preheat your oven at a Gas Mark 4 or 180 degree's and line the bottom of two 20cm (8 inch) round cake tins with butter and parchment paper. Be sure to grease around the edges also, as this makes it a lot easier to remove the cakes.
To create your lemon sponge layers you must firstly cream together your butter and caster sugar to form a smooth paste. This can be done with either a large spoon or spatula and beating the two into one another.
Once the paste is formed you, add the zest of one lemon and mix this so you get an even distribution of the lemon throughout the mixture.
The lemon base is now formed and the next ingredients you will need are eggs. One at a time, mixing thoroughly with a whisk after each addition, add the eggs to the lemon paste. You will notice after each egg the batter becomes runnier and this is why it's important you don't throw them in all at once – as the cake base could become too sloppy.
With the eggs, sugar, butter and lemon zest all swirled together perfectly; you'll need to drop in the self-raising flour. I find it much simpler and cleaner to fold this in gradually using a spatula, but feel free to whisk it in. A key element to watch for, is that you'll need to mix it together to get the same consistency throughout, with as few lumps as possible. Also, be sure to get all the flour from around the bottom and edges of the bowl.

Mixture done, you can now evenly distribute the lemon cake batter into your two lined tins, followed by smoothing them out so they get a presentable finish. Pop them into the centre of your preheated oven for around 20-25 minutes.
When checking the cakes for cooking completion it's a super idea to stab a clean BBQ skewer into the middle of your bake, if it comes out clean, then your fluffy treats are ready for cooling if not it may require another minute or two.
Cakes baked, leave them in the tins to cool for around half an hour and whilst they cool down, you can whip up the lemon butter cream filling.
For the buttercream combine all the ingredients listed under the lemon buttercream heading and with a large spoon or spatula again, combine them together. Gradually, after a grueling mash the dreamy, sweet cream texture should endure and that's your filling ready!
Remove the cakes from their tins and flip them both so the original top facing side is on your work surface. Then on one of them spoon a hearty layer of your decadent, zesty buttercream and spread it across the whole surface area and place to one side.
On your other cake layer, you need to slap on a thick layer of your chosen lemon curd. If it makes for difficulty, jam a butter knife into the jar and whirl around to loosen the texture. Once slathered on the cake, again, evenly distribute over the sponge but at a great thickness.
Here comes the tricky part – the assembly. Carefully pick up your lemon curd layer and gently place it curd side down on top of your buttercream layer so the two fillings marry together. A little bit of over-spillage is common so don't worry, it just adds to the overall homely element and means you get to lick up any excess.
Finally the masterpiece is completed, to finish it off for some picturesque presentation, squirt over a dab of lemon juice and dust the top with a thimble full of icing sugar.Best served with an afternoon brew or anytime your sugar cravings kick in. Usually this cake should serve a few folks but it's that satisfying, you may not want to share.
Tweet