BY CHLOE SMITH
TV screens all over Britain have been bombarded with fluffy animals, from documentaries to adverts persuading us to buy their products with cute animals. The first episode of Star Paws on Channel 4 on Wednesday 27th August gave us the opportunity to step into the world of the media in which animals play such a crucial role, and blowing us away with the extent of the fan bases of such cat celebrities as Bronte the singing kitty and Grumpy Cat.
Many companies use animals to promote their products and give their brand originality. Andrex and Dulux are two brands which captivate customers with this technique. During the documentary, Andrex puppies tumbled onto our screens, posing with the branded toilet roll and in some cases testing its strength by ripping it to shreds! These Labrador retriever puppies are the trademark of the brand and as a result, these golden bundles of fur have made Andrex a leading brand. They work well at influencing potential and existing customers because these puppies subconsciously remind us of the product. We also met Spud, an Old English Sheepdog; who plays a similar role as the puppies, for Dulux as the rustic face on the tins of paint since 1961.
It is not just the cute cuddly animals companies want to use to promote their business. Star Paws illustrated the extremes to which companies go to advertise their products, requesting animals such as lions and rhinos; any animal can be a star. These extremities stand out to their audience and therefore hit the company's goal as they achieve a memorable advert. The Three mobile network accomplished this by using a moonwalking pony followed by a singing cat.
Star Paws followed the journey of the singing short hair exotic cat, Bronte to her stardom. Bronte was the star of the Three mobile network advert in February of this year in which she accompanied a little girl in the basket of her pink bicycle, as they both sang their hearts out to the lyrics of 'We Built This City'. The video went viral on YouTube in a matter of days as everyone wanted to see this adorable moustached cat and her bicycle companion. Bronte is now on balloons, T-Shirts and even has her own children's book 'The Adventures of Bronte the Sing It Kitty'.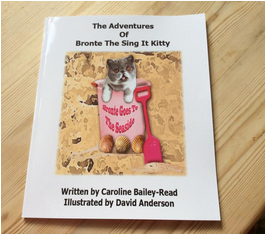 However, Bronte's fame has not been easy for owner Caroline Bailey-Read. In an interview, she said: "The thought of my cat being used in a TV advert was a very exciting prospect", but this was the first time she had ever done anything like this and was unsure what to expect.
Caroline gives the advice to any one in a similar situation to "gain legal advice on everything before you pick up that pen and sign on the dotted line" before allowing companies to use your animals for advertising purposes.
Tweet