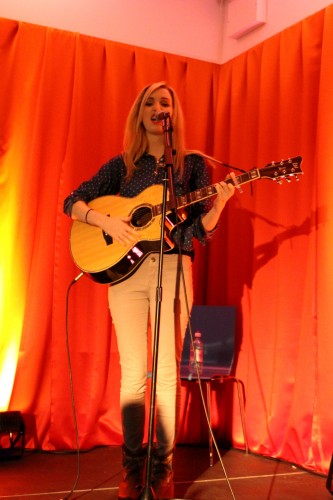 BY BECKY LANCASHIRE 
'Zing Unplugged', a free acoustic night that takes place monthly in the LPAC's Zing Café, featured a selection of hopeful musicians who performed covers and their own original music.
Drama student Michael Woodhall (22), who launched the event last month said his aim was to get more of the community involved and create a cool, chilled-out atmosphere.
"When I started University here, there was an acoustic night at Zing, but it was the same people performing each week and only featured students from the University. So I sent out call-outs, posted on Facebook and handed out fliers. Many people got back to me and came to audition.  I even found some of them busking in the street."
The performers included 19-year-old Abigail Blake who was happy with the result of her first performance in Lincoln.
"I've been singing for a very long time – ever since I could talk I've been singing. I am currently putting an EP together that will be out on iTunes in March."
The self-taught guitarist from Norwich has already released her debut single 'Tainted Lyrics' that she has written, recorded, produced and promoted single-handedly.
The next Zing Unplugged event will take place on Tuesday 18th of November.
Tweet