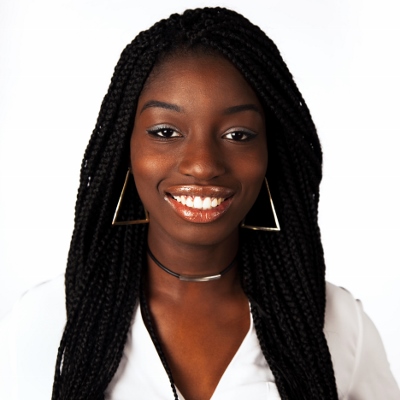 My name is Lexy Mbu and I want to be your Student's Union President. I am the current Chair of our Student Council which has allowed me to learn how our SU is run and how we, as students, play an important role. I have had the chance to listen to your opinions ensuring that everyone's voice is heard and that you feel valued. It has been an amazing experience to serve and represent students ensuring that you get the best student experience possible.

My campaign focuses on three objectives – "The Three D's" – of:
• Diversity – Inclusion and Representation of all students
• Democracy – Easy access for students to share their voice
• Development – Progression of the Student's Union strategy
Diversity
The word 'diversity' means a range of different things, and our university is made up of different cultures, nationalities, backgrounds and ages. My main objective is to represent all students and make sure every voice is heard. I feel that everyone deserves the right to have the best student experience possible. In particular I want to focus on international and mature students, where they feel included and represented by the SU. Something that I would like to do, is to create a Full-Time International Student Officer which is in line with the university's objectives and the SU. By bringing an international full time officer into the Student's Union, this guarantees international students are better represented and that our university promotes the different cultures and enhances the student experience.
Democracy
I want to motivate students to get involved in the running of their Student's Union, which allows them to be better represented and have a voice. Did you know you actually run the SU and can hold the Sabbatical Officers accountable for their actions? This is something that I want to raise among students and highlight how important their voice is. I also want to look into the running of Student Council, in which current SU president Brian Alcorn has started looking into. This allows us to better represent you, the students. In addition I want to move forward using technology and create an online idea system making it more accessible for students to voice their opinions.
Development
I want to progress the Student's Union strategy by improving employability, securing financial support and improving representation. Part of development is to ensure that the Student's Union is actively supported by the university so we both head in the same direction. I also want to create an advice centre where students can freely say what is on their mind and have their voice heard. Lastly I want to support the other Sabbatical Officers working together to achieve one goal: consistently improve the student's university experience!
I believe that you have a voice and it deserves to be heard! If elected I will make sure that I represent you, putting you at the forefront of everything I do to make sure we have another successful year.
Tweet