Written by Ettie Stevenson 
Being a student doesn't necessarily mean you can't buy clothes often or that you have to wait for the sales to afford anything!
Whilst it's fun when the student loan comes in to treat yourself to a new top or pair of jeans (we've all done it)… spend first, budget later, right? It is possible to buy clothes on the cheap that look just as fab.
The answer? Charity shops.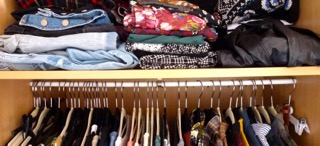 Any city/town is full of them, from Oxfam to Brantano the high street is littered with these wonderful stores. Although some of the stuff in there isn't the greatest and it can bit a bit hit and miss, there are some real gems to be found!
With Harrington style bomber jackets at only £3.00 to gorgeous silk shirts at £1.00 or less, you can play around with your look without worrying about plunging so far into your overdraft you'll never ever get out.
Not only is it a cheap way to create new looks from unusual clothes, if you're lucky you can also find new season items from the high street shops. Bags from Topshop or dresses from Asos, you'd be surprised at what items find their way into charity shops.
How do you go about finding these pieces then? Here's some top tips:
Look regularly, like you do with clothing websites. In Lincoln there's no excuse not to pop quickly into town when it's only about 5 minutes away from campus!
Keep an open mind when shopping. It's all too easy to get into a mind-set where you're convinced you'll find nothing, and if you think like that… you won't!
See potential! Yes, that shirt may have spent its life before on an old man, but it would also make a great shirt for wearing unbuttoned over a t-shirt and jeans.
Be prepared to take a risk. Sometimes you just don't know if an item of clothing will work for you or not and as nothing's too pricey and the money goes to charity you might as well take it home and experiment with it!
Basically, there's no definitive guide to charity shopping. It's fun, spontaneous and great to do either alone or with friends! Some days you might see lots of things but other days it might be a bit dispiriting. However, it's completely worth it for all the times people complement you on clothing items or you find an absolute bargain!
So, if you're a complete clothes-shopping addict you don't necessarily have to panic about shopping on a tight budget!
Good luck thrifting!
Tweet