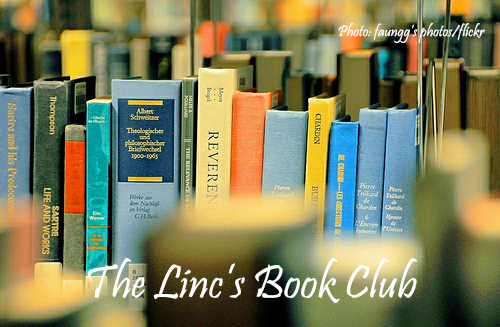 Seeing as it is awards season we thought the Linc book team would take a look at some of our favorite book that have been taken from page to screen.
The Handmaid's Tale – Margaret Atwood (Reviewed by Lisa Schwarzenauer)
With a star-studded TV-adaptation hitting the screens this April, now is the perfect time to read Atwood's modern dystopian classic about a totalitarian society where women are reduced to being breeding machines and servants.
Offred is a handmaid – a female servant kept for breeding. Every part of her life is controlled, from her clothing to her minimal social contacts and her name (handmaids are stripped of their real names and take the name of their master – she is "of Fred").
She remembers her life before the revolution: having a family, friends, a job, hobbies. Being an individual. Now, the authoritarian theocracy of Gilead has replaced the United States, and it has taken all of that away. Women are stripped of their rights (including the right to read), and their worth and class are determined by their reproductive capacity. Offred tries to fit in and just survive, but soon her desire for love and freedom makes her risk everything.
Margaret Atwood's haunting dystopian masterpiece hasn't lost any of its power since its first publication in 1985. The tale of a fundamentalist government taking over a democratic society and repressing its citizens feels as relevant as ever, and if the 10-part series starring Elizabeth Moss, Samira Wiley, Joseph Fiennes and Alexis Bledel stays true to the book, Hulu's take on The Handmaid's Tale might well turn out to be one of this year's on-screen highlights.
The Silence of the Lambs – Thomas Harris (Reviewed by Abbie Arestis) 
The Silence of the Lambs is part of a quartet of novels by author Thomas Harris, surrounding the dark, gory and twisting fictional tales of the serial killer and cannibal; Dr. Hannibal Lecter. This novel is the most renowned of the series as highlighted by the immense popularity of the film adaptation. The story focusses on a young FBI trainee, Clarice Starling, during the investigation of a series of murders of young women by the unknown serial killer, titled as 'Buffalo Bill'. Throughout, Starling repeatedly visits Lecter in his confined cell within a high-security mental asylum to gain more insight on the case. This reveals a strange relationship between the two characters particularly as Lecter shows a soft-spot for Starling which plays to her advantage; he provides her with clues about the case in return for information about her tragic childhood as an orphan. This relationship leaves you unsure about what Lecter really wants from Starling, as he uses his skills as a psychologist to resurface her repressed traumatic experiences. He also displays an oddly considerate side through, for example, manipulating a fellow patient in the asylum to kill themselves because he had harassed Starling on one of her visits.
The psychological thriller is gripping with revelations about the murders which gradually piece together, as well as cleverly depicting the cunning intelligence of Lecter as he outsmarts the authorities. Harris's attention to detail with criminological terms and gruesome descriptions create a sense of eeriness that stands out from conventional crime thrillers and therefore is definitely worth a read.
The Body – Stephen King (Reviewed by Amber Coombs)
I never had any friends later like the ones I had when I was twelve. Jesus, did you?
Stephen King's, The Body, now coming-of-age drama film, Stand By Me, is a short-story of innocence and harsh reality. Set in 1950s Oregon, four young friends, sensitive Gordie Lachance (Will Wheaton), misunderstood Chris Chambers (River Phoenix), juvenile Vern Tessio (Jerry O'Connell) and hot-tempered Teddy Duchamp (Corey Feldman), who decide to undertake an adventure to see the body of Ray Brower, a young boy their own age, who was killed by a train 20-odd miles out of town.
The novella is a true coming-of-age story set over summer with the characters gathering in tree houses, having camp-outs and spending as much time as possible with each other. However, all is different by the end, with the aged narrator, an adult Gordie, demonstrating the harsh realities of young friends growing apart as they grow up, like 'busboys in a restaurant', coming and going. The film, directed by Rob Reiner, follows the novella very closely, and changes very little for the screen adaptation, apart from one pivotal point towards the end which even King has stated he should have thought more about when writing.
Gordie's adventure through the streets of Castle Rock and down the Back Harlow Road to see Ray Brower will make each and every reader relate to the story of the four boys who decided one day to grow up and ultimately, apart.
The Woman in Black – Susan Hill (Reviewed by Laura Taylor)
The Woman in Black is a gothic classic, therefore, it's not surprising that there have been two film adaptations in the last 30 years. The one that is best known to this generation is the 2012 production starring Daniel Radcliffe. However, does the film really capture the pure horror of the novel?
Whilst the film perfectly encapsulates the ghostly nature of the novel, the plot involves some pretty major changes. For instance, the final chapter involving the death of Arthur Kipps' son and wife is far more chilling in the novel than the film; In fact, the film only involves the death of Kipps' son as the wife is already deceased. Whilst this may not seem like a massively crucial change, in my opinion, the brutality of the dual death in the literary version is far more horrific.
I couldn't possibly write a review on the success of the novel's transition into a film without mentioning the notorious rocking chair. Personally, I believe that the film perfectly captures the pure horror of this satanic piece of furniture; the ominous image of a mobile rocking chair is a beautifully chilling representation of the familiar made unfamiliar, or if you're accustomed to Freudian terms, "the Uncanny". Kipps' memory of an object of childhood enjoyment is distorted into an item of pure terror and anxiety. Therefore, the debate remains to be; is this a tale of apparitional happenings or a tale of the anxieties surrounding childhood?
Trainspotting – Irvine Welsh (Reviewed by Matthew Dixon)
It has spawned two films, gained a cult following, produced a hell of a soundtrack and helped launch the career of one of Britain's favorite actors. Trainspotting is a classic British film and an incredible original novel, but not what I would call an easy read.
For those who have been living under a rock and have no idea of the plot, it's the story of a group of young drug addicts, living in Edinburgh during the early nineties. It follows four main characters: Mark Renton, Simon/Sick Boy, Spud, Begbie, and exposes their flaws to both the reader and themselves through stories of drug abuse, sex, and betrayal.
The book is written in what I would call raw Scottish. It's not just the dialogue that is written like this but the whole book. It gives the feeling that this is a story that someone is telling you over a pint at the local pub. The stories are gritty and horribly real, making the audience cringe and contemplate their current state of affairs. For me, it's what makes this book so unique and fantastic. There isn't really a running plot and most of the characters don't learn anything, yet it's incredibly engaging.
Due to the language, you may find yourself reading aloud, and I'll warn you now that this is not a book for under 18s, or to be read in the presence anyone under 18. If you're a fan of the original film and just want to hear more tales and more detail of these beautifully crafted characters then give this a read. The film is a classic and really does the book justice. A bucket list read.
Tweet