This week is HIV testing week and Lincoln-born Andrew Gamez-Heath is fronting the campaign after revealing on a Facebook post that he was HIV positive after a check in 2014.
Andrew posted to Facebook during HIV Testing week in 2017 that his life was 'turned upside down' after a routine check-up in 2014, a test that came back just 60 seconds later. With daily medication, of just one tablet a day, the virus is now undetectable in his blood.
Speaking to Andrew, he explained that testing is "So Important" and said, "It's the only way to know for sure what your HIV status is, knowing your HIV status is only ever a good thing". Once the virus is undetectable in blood tests, it means it is no longer attacking your immune system and means there is no risk of passing it on to your partner.
When asked about his initial reaction to finding out he has HIV, Andrew explained "The nurse did the finger prick test and she told me that the test had come back 'reactive', she explained it meant I was HIV positive", he said he reacted with "fear and panic" once finding out as he said he was "clueless" on the virus. After only knowing now husband Ricardo for a few weeks, he asked the staff to call him and when he arrived he gave Andrew a big hug and told him everything will be ok.
Seroconversion is the point at which the body produces antibodies to HIV, and once this has happened, a test will detect antibodies and give a result of positive. Seroconversion illness happens to most, but not all, recently infected people and can so severe it can put someone in hospital, or as mild as being mistaken for something like the flu.
Finding out he had HIV had such an impact on Andrew that he only told a handful of people, he was working at Positive Health and delivering HIV workshops at schools but kept his own status a secret. "I decided on the third-year anniversary of being given my diagnosis I was going to be more open about my status and so I put it on Facebook, so my friends and family were aware". Andrew's status was liked and shared by thousands and the next day his post had "travelled around the world, the next day the article was in The Daily Mail, The Mirror and The Metro just to name a few", and since then he has had amazing opportunities to raise awareness about HIV on a much larger scale, also saying it's been "an absolute honour" being one of the faces of National HIV Testing Week.
Positive Health Lincolnshire do drop-in sessions on the first Monday of every month between 2pm-7pm, offering sexual health advice and do a finger prick test with a result in 60 seconds. The centre is strictly confidential and also work closely with the Sexual Health Clinic offering other STI screenings too. To find out more information, check out their Facebook page or call 01522 513999.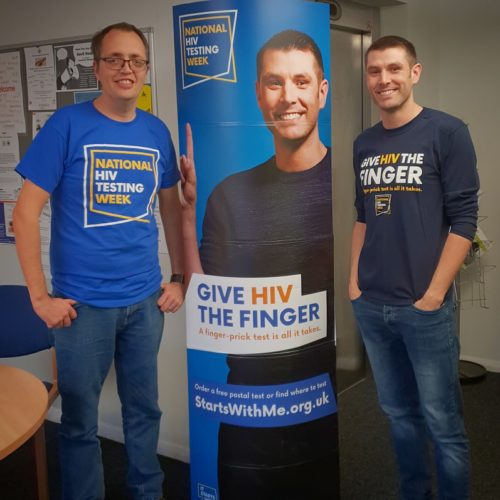 Tweet