Tag Archives:
Foodie Friday
Originating from Korea, Jjigae is a spicy, filling soup perfect for cold winter days. It's student budget friendly; pork belly is one of the cheapest cuts of meat you can buy!
Posted in

Food, Lifestyle
Leave a comment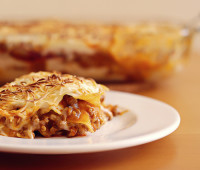 Lasagne is a great meal to make for a group of people, or just for yourself when cooking in bulk. Try out this relatively easy recipe. The time you put into it is definitely worth the wait when you taste the end result!
Posted in

Food, Health, Studenthood
Leave a comment
This recipe holds enough for 2 servings and only takes you half an hour to make – perfect for value student cooking!
Posted in

Food, Lifestyle
Leave a comment