Tag Archives:
freshers fayre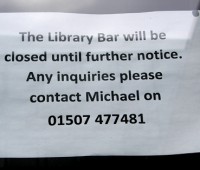 The 24-hour licensed campus pub Library Bar has closed as the university takes control of the premises, according to a statement on Facebook.
Posted in
University
Leave a comment
Not allowed to attend the official Freshers' Fayre, members of Lincoln's Pubwatch scheme hosted their own at the Glasshouse.
Posted in
Local
Leave a comment
The Students' Union has unveiled the list of events happening during this year's Freshers' Week. It starts properly on Sunday September 20th at 10pm, with the yearly 'Icebreaker'.
Posted in
Students' Union
Leave a comment