Tag Archives:
GCW Library
A new web app has been created by the University of Lincoln library to help students find available computers.
Posted in

News, University
Leave a comment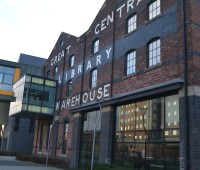 You've made it. You're officially a university student and, much like the excessive binge drinking, a three year commitment to the library probably wasn't mentioned at open days.
Posted in

Fashion, Style
Leave a comment
The closure of the University of Lincoln GCW Library's "More Book" service has been criticised by a number of students. John Fernandez reports.
Posted in

News, University
1 Comment