Tag Archives:
RAF Waddington
A group of peace activists rallied outside Lincoln Magistrates Court recently to demonstrate against the RAF Waddington's alleged use of drones.
Posted in

Local, National, News
Leave a comment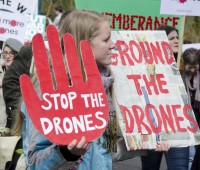 Hundreds of protesters against the use of drones marched from Lincoln to the RAF base at Waddington on Saturday, April 27th, 2013. Åsmund Løvdal went along.
Posted in

Local, News
Leave a comment
Thousands of people flocked to the RAF Waddington International Airshow on July 4th and 5th, as the hot weather and clear skies defied forecasts. Exclusive photo gallery for The Linc from Dean West.
Posted in
Local
2 Comments