Tag Archives:
Style through the decades
The carefree and liberated attitude of the 1920s that had so affected the style and cut of womenswear began to fade out by the end of 1930, as the Great Depression began to take effect.
Posted in

Fashion, Style
Comments Off

on Style Through the Decades: Women in the 1930s
Everyone associates the 1920's with the knee-length flapper dress, accompanied by glitzy headbands and even a cheeky feather boa. But is there more to it?
Posted in

Beauty, Fashion, Style
Comments Off

on Style Through The Decades: 1920s Women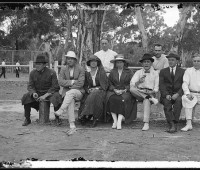 Sandwiched in between a decade of war and a decade of depression you could have forgiven fashion for taking a break in the 1920s. You could have understood if fashion had just wanted to have a nice, easy time, maybe introduce a new style of sock if business was especially slow, but nothing revolutionary. And […]
Posted in

Beauty, Fashion, Style
Comments Off

on Style Through The Decades: 1920s Men