Tag Archives:
Vendebta
The most surprising thing for Mike Hodges was not that so few students turned out to protest against the debts they are forced to incur, but that any of them turned up at all.
Posted in
Campus Voices
2 Comments
A protest on the High Street, the last leg of the "Ven'debt'a" campaign, saw a disproportionate number of students from the University of Lincoln and Bishop Grosseteste University College.
Posted in
University
5 Comments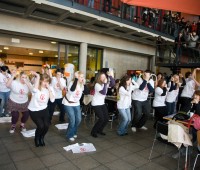 Lincoln's Students' Union have kicked off their "Ven'debt'a" campaign on Tuesday, with an underwhelming flashmob event in the Atrium.
Posted in
Students' Union
6 Comments