Tag Archives:
Waterside Shopping Centre
Lincoln has a wide range of shops. From chain stores to charity shops and boutiques, there's guaranteed to be something for everyone.
Posted in
Lifestyle
Leave a comment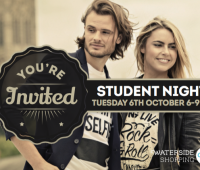 Lincoln's Waterside Shopping Centre held its annual Student Lock-In last Tuesday. Shops such as New Look and Topshop kept their doors open till late showcasing some fantastic student only deals.
Posted in

Beauty, Fashion, Studenthood, Style
Leave a comment