Local Fight Factory Wrestling is gearing up to tackle cancer following two successful events at the Engine Shed on Sunday, October 1.
A show in the afternoon saw the flamboyant stars entertain families, while an over 18s show in the evening reached the 'Boiling Point,' with full moons, weapons, and even a violent crash in to the crowd!
"We just go that extra mile, everything gets a bit darker and it's just more epic," said promoter Miss Rebecca of their adult content.
 The main event saw the obnoxious 'Pride of Boston' Dale Preston lose the European Championship to Edward Ripper.
The bald "cheesecake" (as fans decided to dub him), thought he had the belt in the bag when champ Dave Isaac announced that he couldn't compete due to injury, but there was no way Miss Rebecca was going to let him off without wrestling.
Ripper, who had already endured a loss to Nathan Cruz in the opener, managed to dodge Dale's wooden hockey stick and at one point sent the wrestler flying through the metal guard rail in to the fans at ringside!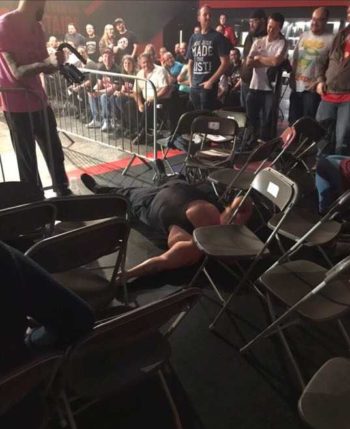 In no uncertain terms Dale was then told to "f*ck off!" as the audience chanted "goodbye" and the new champion celebrated his victory.
Also on the show sleazy rookie Will Kroos (after much yammering from his manager) signed a contract to face Heavyweight Champion Dutch.
As soon as pen was put to paper a chaotic brawl left the champ in a pile of splintered wood, staring up at the lights, wondering whether it was such a good idea after all.
 Bodyslams To Cancer
Their bout will take place at 'Bodyslams to Cancer,' the company's annual money raising mega-event, on 29 October, from the One NK, North Hykeham.
Rebecca told me that Dutch's mother battled cancer in 2014 and wanted to come see her son perform, but before it could all be arranged she sadly passed away.
"Literally the day after Hayden [Dutch] said 'we need to do this and make it the biggest ever,' and in the October we drew over 350 people and raised £2,000," she said.
Now in its fourth year the couple are hoping to smash the show's record and raise £5,000 with help from their growing roster of colourful characters.
"This year we decided to support PACT, which is a children's charity for kids with leukaemia and brain tumours, and also Candles, which is one Hayden's mum wanted us to follow," she added.
One big name already confirmed for the event is Bram, who's currently on TV in the States and UK every week for Global Force Wrestling. Not one to mince his words, he vowed to "kick cancer's c in!" on Twitter.
Lana Austin is also on the card defending her Ladies Championship, along with other familiar Fight Factory Wrestling names.
Will Kroos has risen to prominence as Factory Wrestling's top bad guys and his match with Dutch is a great hook going in to the charity event. If you're looking for something local but different to do on a Sunday night, it's definitely worth the £10 general admission.
Tickets are already on sale on the Fight Factory Wrestling website, and all profits made will be split between the two charities.
More will be announced in the coming weeks.