Written by Olivia Peace.
Recently, The Sunday Mirror Travel released a "Top 20 hottest holiday destinations for 2015" list and placed Lincolnshire in the third place spot. Now, if you find you are wondering why this is then look no further with my guide to why Lincoln is a fab place to visit.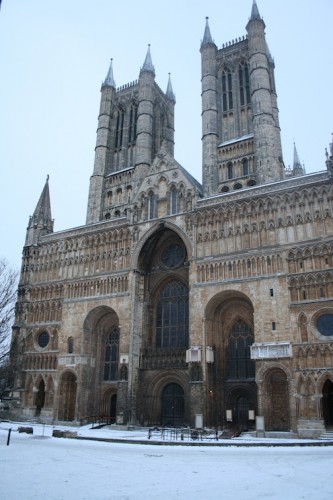 Yes, Lincoln is small, but there are great things to discover, see and do. Here is why…
Lincoln Cathedral – During the day and at night, the Cathedral remains a beauty. Drawing attention from all ages, it holds historical importance and is an iconic feature of the city. People say that it is the thing they look out for when they are driving here.
Lincoln Castle – This is another building of historical importance and a great feature of the city. With 2015 marking the 800th anniversary of the sealing of the Magna Carta, the Castle will be open in April for members of the public being able to see one of the original copies. Click this website for more details:
http://www.visitlincoln.com/things-to-do/lincoln-castle
Steep Hill – An absolute challenge and a half to climb, but by the time you are halfway up you can appreciate all the quaint little shops and nifty coffee places. Definitely a more risky trip when icy, but in the summer it is just glorious. Oh and there are a few pubs to stop off near the top to replenish your energy.
The High Street – Full of all your usual town centre shops with a range of price tags for anyone in need of a shopping fix: there is Topshop, New Look, Debenhams, Primark, H&M, Jack Wills and Superdrug to name a few.
The Home of the Red Arrows: Based at RAF Scampton, the Red Arrows are the face of the Royal Air Force, and the famous aerobatic team often have a visible presence when they practice over the city with gravity defying loops, daring barrel loops and hearts in the sky.
The Waddington Air Show – The annual two-day show, beginning the first week of July is a great family day out and attracts hundreds of thousands of visitors. This 7 hour flying display features the Red Arrows.
The Brayford – Home to the Swans of the city, the Brayford is picturesque both during the day and night. A beautiful scene over the Waterfront, there are many eating, drinking and entertainment spots for you to enjoy.
So there you have it. A list of reasons why Lincoln truly is a great place not to just live and study but to visit as well. It caters for all ages and all members of the family.
Tweet